We have decided to offer our guests a popular new wedding gift alternative - our honeymoon registry. This will allow you to help us create the honeymoon memories that will last us a lifetime!
About our Honeymoon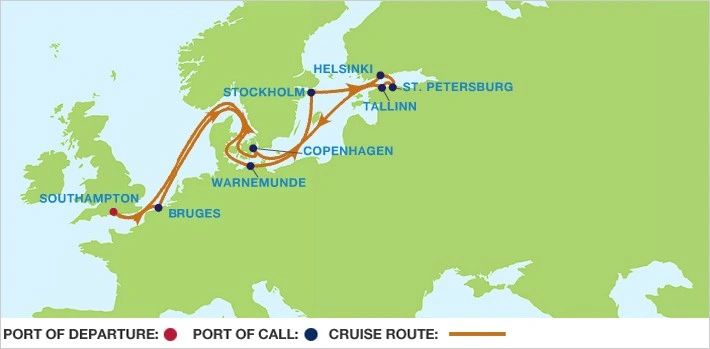 July 20th
Our honeymoon begins when our cruise ship, the Celebrity Eclipse, leaves the Southampton Pier! We will pop some champagne and begin to party the night away. We will dine at one of our favorite restaurants, Qsine and then watch the first night of the onboard entertainment!
July 21st
Bruges & Belgium Chocolates Excursion
Ok, seriously...how could we come to Belgium and not do an excursion that centered around chocolate!!!! The highlight of this tour is a visit to a Belgian chocolatier's workshop for a chocolate demonstration. We will learn how raw chocolate bars are made into fine Belgian chocolates. Afterwards Christine and Lauryn will perform a magic trick...demonstrating how quickly Belgian chocolates can disappear! Feeling guilty we will then enjoy a brisk walking tour through Bruges that will include the sights of the Market Square, the Belfry Tower and Burg Square.
July 22nd
Day at Sea
After a year of wedding planning, many days of wedding celebrations, and a few days of travel, we will enjoy a day to kick up our feet and relax! We have booked a wonderful couples massage! Afterwards we plan on having a blast with many hours of game time: BINGO, Roulette, and Trivia!!!
July 23rd
Berlin Discovery Excursion
Our tour will begin with a bus ride from Rostock's commercial port to Berlin, Germany. We will have a sightseeing tour on our way to the first highlight, the Pergamon Museum, one of Europe's most impressive museums. The collection of architectural treasures includes Greek, Assyrian and Babylonian art. We will also take a short walking tour of a UNESCO World Heritage Site, Museum Island. The rest of our tour will include stops at the Brandenburg Gate, Charlottenburg Palace and the East Side Gallery (Berlin Wall) and Checkpoint Charlie.

July 24th
Day at Sea
On this day of sea we will look forward to a little more relaxing in the spa and getting facials! Afterwards we will both enjoy a little more downtime with reading, and then it's off to trivia and the casino! Don't worry, we will surely fit in a game of BINGO! That evening we will enjoy dinner at Murano.

July 25th
Kayaking in National City Park Stockholm Excursion
We will be doing one of Lauryn's favorite things...kayaking!!! We will arrive at Brunnsviken Bay situated in the Haga Park, a beautiful park planned by King Gustav III at the end of the 18th century and today part of the world's first National City Park. Brunnsviken Bay is ideal for kayaking, as the water is very calm and warm during summer. We will enjoy this kayaking tour in the waters of Brunnsviken to explore this little gulf that is actually part of the Baltic Sea. The stunning beauty and interesting cultural history will make it this experience even more memorable!
July 26th
We are excited to tour Helsinki's main highlights and visit one of the largest Ice Bars in the world! Our tour begins with a stop at Senate Square with the elegant Lutheran Cathedral...and then we make our way to the Ice Bar! On arrival we will be given proper clothing to keep warm and we will enjoy ice cold vodka from a glass made of ice! Afterwards, we begin our journey towards the downtown area. We will drive along Mannerheim Street, which is the main city street, where we can see the the Opera House, Parliament House, the National Museum, Finlandia Hall, and the Contemporary Art museum. Finally, we will make a stop inside of the unique Temppeliaukio Rock Church blasted into solid rock.
July 27th - 28th
St. Petersburg 2 Day Excursion
Yep, you read it correctly! We have two entire days in beautiful St. Petersburg, Russia! This has been one of Christine's 'bucket list' items for a long time...so what a great way to visit this beautiful city. Our tour begins with the Palace Square, the main square of the city, beautifully balanced and proportioned around the Alexander Column, an important focal point for this architectural ensemble. On the northern side of the square stands the picturesque Baroque Winter Palace. We will drive across the Neva River to make our first stop on the Spit of Vasilievsky Island, flanked by two Rostral Columns.
Then we will drive to Peter and Paul's Fortress before entering the Hermitage. The guided tour in the Winter Palace will include numerous reception halls such as the Small Throne Room, the Armorial Hall, the Grand Throne Hall and the Malachite Room. We will marvel the exhibits of the 15th 16th century French art as well as works of Impressionists. The next building on our tour is the Small Hermitage, famous for its exquisite decoration with a marble colonnade, crystal chandeliers and the amazing Peacock Clock. In the Old Hermitage, we will see a splendid collection of Italian Renaissance including masterpieces of Leonardo da Vinci and Rafael. We will walk the halls containing the Dutch collection, we will observe Rembrandt's artistic career from his early masterpieces to the very last revelations of the genius.
We will take a short drive to St. Isaac's Cathedral, one of the world largest cathedrals (1818 - 1958) designed by French architect August Montferrant. The Cathedral is named for St. Isaac of Dalmatia whose Saint's Day (May 30) coincides with Peter the Great's birthday. We will view the vast and opulent interior that covers 43,000 sq ft. The church's interior is filled with hundreds of impressive 19th century works of art. After our visit to St. Isaac's Cathedral, we will continue to the Cruiser Aurora, which signaled the beginning of the Bolshevik Revolution in 1917. Then off to the Field of Mars to the Cathedral of Our Savior on the Spilled Blood, built on the spot where Emperor Alexander II was assassinated in 1881. Ending with a drive down the main street of Nevsky Prospect on the return to the ship.

July 29th
Walking tour of Tallinn, Estonia Excursion
After two strenuous days of touring, we will look forward to this easy walking tour of Tallinn. During our walking tour we will see the sights of a UNESCO Heritage Site, Tallinn's Old Town. We will also walk to other Must See sights such as: St. Catherine's Passage, St. Nicholas' Church, Alexander Nevsky Cathedral, Viru Gate, Kadriorg Palace, and much more!

July 30th
Day at Sea
After so many days of walking and picture taking we will head back to the spa for manis and pedis! And of course, you guessed, it's back to the casino, trivia and a little more BINGO! This evening we will enjoy a romantic dinner at the Tuscan Grille!

July 31st
Copenhagen Harbor Excursion
We will be enjoying a comprehensive look at "Wonderful, Wonderful Copenhagen", as the song goes - by land and sea. The tour begins with a short sightseeing tour through the city - passing places of interest such as The King's New Square and the Royal Theatre, Amalienborg Palace - the residence of the Royal Family, Town Hall Square, the Tivoli Gardens and the New Carlsberg Glyptoteque. At Gammel Strand - formerly the Old Fish Market - we will change from bus to boat. The leisurely cruise will take us through the canals of Christianshavn with its picturesque old buildings, the Royal Library's new building, Black Diamond, and Our Saviour's Church with its green and gold steeple and other landmarks. After this, we will make a stop at the original location of the Little Mermaid, the fairytale creation of Hans Christian Andersen.

August 1st - 2nd
2 Days at Sea!
Wow! What a cruise! We will enjoy these last two days at sea just relaxing and dancing the nights away! We will also end our cruise the way we began it with dinner once more at our favorite restaurant, Qsine.

Needless to say we are really looking forward to this wonderful trip and we can't think of a better way to begin our journey as a married couple!